The Specs
Product Name: 2648-20 M18
Brand: Milwaukee
Weight: 2,7 pounds
Power Source: Battery
Size: 6 inches
Max Speed: 12000 Rpm
Features: Variable speed, battery operated, quick charge, hook and loop, powerful motor
The Milwaukee M18 is a battery-powered orbital palm sander that packs a considerable punch for its size. The Milwaukee sander is very affordable and comes with several components, including the sander itself. In the box, along with the Milwaukee cordless sander, you will find a detachable dust canister, a universal hose adaptor, and an extension adaptor. In addition, this orbit sander also comes with 2 80 grit sandpaper disks to get you started on your DIY project.
It is important to note that although this is a cordless sander, it does not come with a battery. It will, however, work without a battery, thanks to the extension adaptor. However, if you want to run it cordlessly, then you need to purchase a Milwaukee tools battery separately. You can find the battery pack here
Sale
Now you have an introduction to the Milwaukee orbital sander, let's take a deep dive into its rich set of features, check out its performance and see how it weighs up compared to all of the other orbital sanders that we have tested previously.
Milwaukee M18 2648-20 Cordless Sander Features
For a small device, the Milwaukee sander has many features that make it an extremely versatile one. Although it's affordable, it also comes with everything you need to start your sanding project. Although it is a small palm sander, it can also sand large areas fairly effortlessly thanks to its power and adjustable speed controls. Let's take a closer look at these features one by one.
Milwaukee Sander Variable Speed Control
The sander has a variable range of speeds starting from 7000 OPM and going right up to 12000 OPM. The speed at which the sanding pad oscillates can be adjusted using a handy little switch on the side of the sander. We found this speed control ideal for when we were moving the sander to different surfaces. When sanding a small area, the slower speed made it easier to control, and equally, when sanding a larger area, the increased speed made it perform much more efficiently.
More Material Removed Per Charge
This is something that really impressed us when testing out the M18 Milwaukee orbital sander; to put it simply, it lasts a long time before needing to be recharged. Considering the power used by most orbital sanders, we expect them to run out fairly quickly if you are constantly standing with them. It's a given. However, this particular sander does last noticeably longer than others before running out of battery.
Upon further research, we found that the Milwaukee sander has a new battery technology dubbed "REDLITHIUM." Essentially it is smart battery technology, and the result is a longer operating time and more material removed per charge. Our tests found that the Milwaukee M18 lasted, on average, around 35 minutes per charge. This was based on standard sanding duties, with the sander being in use most of the 35 minutes, apart from when moving between surfaces and changing speeds.
Dust Management With the Milwaukee Sander Dust Canister
The M18 comes with a dust canister that can be attached to the back of the sander. The canister also has a filter which really helps to contain as much dust as possible whilst also letting out the air. This prevents the sander, and the dust canister, from overheating and from getting clogged up. The canister does work well, and it is fairly efficient. The only problem we found is that sometimes the canister comes too loose from the sander whilst you are sanding. We found this tended to happen when we were carrying out heavy sanding work. It was just a small inconvenience, but it did somewhat tarnish our experience with the sander.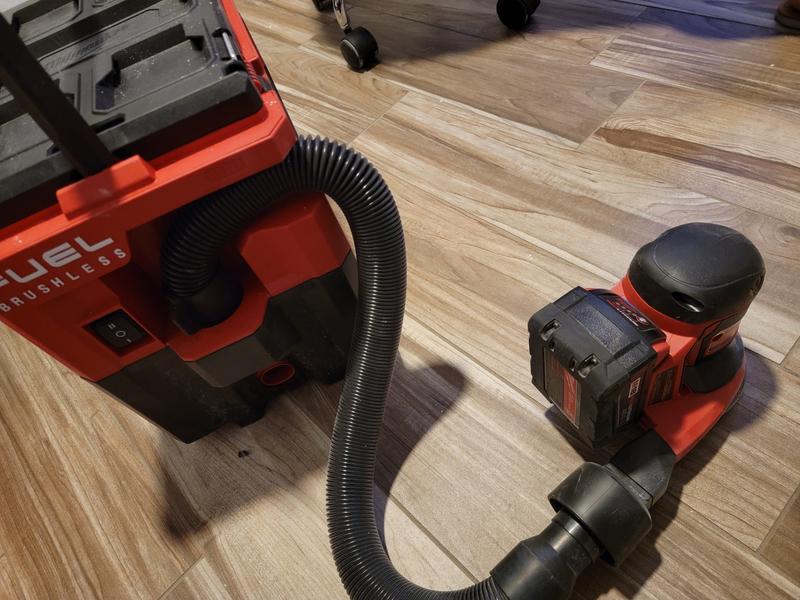 Power and Efficiency
The sander packs a fair amount of power and is very efficient to use. The sander is 5″, and the actual orbit diameter is 3/32″. Although this is a palm sander, it is fairly powerful – probably at the top end of the power rating compared to most other sanders in its category.
Size and Comfort
Another minor issue we found with the sander was its size. Although it is classed as a palm sander, it is just a little too big to fit comfortably in the palm whilst sanding. In particular, if you are sanding a small surface, it is quite hard to control the sander with one hand, so you end up having to hold it with two hands. On larger surfaces, this isn't so much of an issue.
The sander is half palm sander and half full-blown power sander, although the advantage to this is that it can comfortably handle the sanding of larger areas than most other small sanders.
Package Contents
1 x M18™ Random Orbit Sander (2648-20)1 x Dust Canister1 x Universal Hose Adapter1 x Extension Adapter2 x 80 Grit Sandpaper
Good Points
powerful for a palm sander
good on large flat surfaces
good battery time at around 35 minutes on average
batteries are interchangeable
Bad Points
too big to be a true palm sander
difficult to control when sanding small surfaces
problems with the dust cover
Useful Resources and Documentation for the M18 Milwaukee Sander
Milwaukee M8 Operators Manual
The operator's manual covers all of the functions, maintenance tips, and other relevant information. Twenty pages is a great resource you can print out or save on your computer.
You can download the manual here:
Milwaukee orbital sander M18 operator's manual
Milwaukee M8 Service Parts List
If you are interested in knowing how your sander works, or if you need to service it and possibly replace parts, then you will definitely need the service parts list. This document provides a tear-down of sorts, showing you all of the parts which make up the sander. This is particularly useful if your sander has seized up or has suffered water damage if you've been carrying out wet sanding with your orbital sander.
You can download the service parts list here:
Milwaukee sander M18 serviceable parts list.
Why buy It?
The Milwaukee M18 2648-2 sander is a great product, and not only do we say that, but also the hundreds of rave reviews from buyers. The battery life is more than enough for standard sanding jobs, around 35 minutes, plus it comes with an absolutely attractive price for the category. This sander is a Best Buy.
Why not buy it?
Difficult to find faults with this orbital sander. If you want, it is less handheld than described, its dimensions are a little larger than normal palmtops, and on certain occasions, it forces you to use two hands. It is also sold without a battery.
Final Thoughts on the Milwaukee M18 Cordless Sander
There were a few goods and bad points with this sander, but overall we liked it. It is very nice to see a sander that gives you the best of both in terms of its compact size and lightweight, coupled with its extensive set of features, ease of use, and power. There aren't many other sanders that tick all of those boxes and are still affordable. So despite a few small issues with the sander, we feel the advantages far outweigh the disadvantages, so we give it the thumbs up.